Welcome to Maverisk. Besides the Blog, which is mostly in English and here, there's a Contact page, and an About.
Without ado then, my service offering:
Any type of advisory service, assessment, review, inquiry or audit or what title you'd want to give it, that provides you with state-of-the-art insights into compliance and possible improvements in your organisation,
Regarding organisational alignment of ERM/ORM/IRM, the latest IT-driven innovation (options), Information Management and Information Security Management and control, IT security practices including privacy-issues, the state of controls and In Control posture of your organisation.
As for standards, COSO ERM, GDPR, ISO31000, ISO 2700x, NEN7510, BIWA, you name it, can be applied in the above.
Where Maverisk, I, can be hired for fixed-time and/or part-time assignments, to deliver top-notch independent advice and/or reporting, to fill your temporary capacity needs (e.g., when hiring takes longer and you see the backlog growing fast), or to support your respective department its development by knwoledge and experience transfer.
With the experience I bring, you will not need to train extensively; I'll be fully operational in no time if any.
And yet, I'll do my work according to the highest professional standards (e.g., ISACA, NOREA).
On either tailor-made or standard-packaged terms of reference. For the latter, an overview with ISO 27k1 / GDPR as example: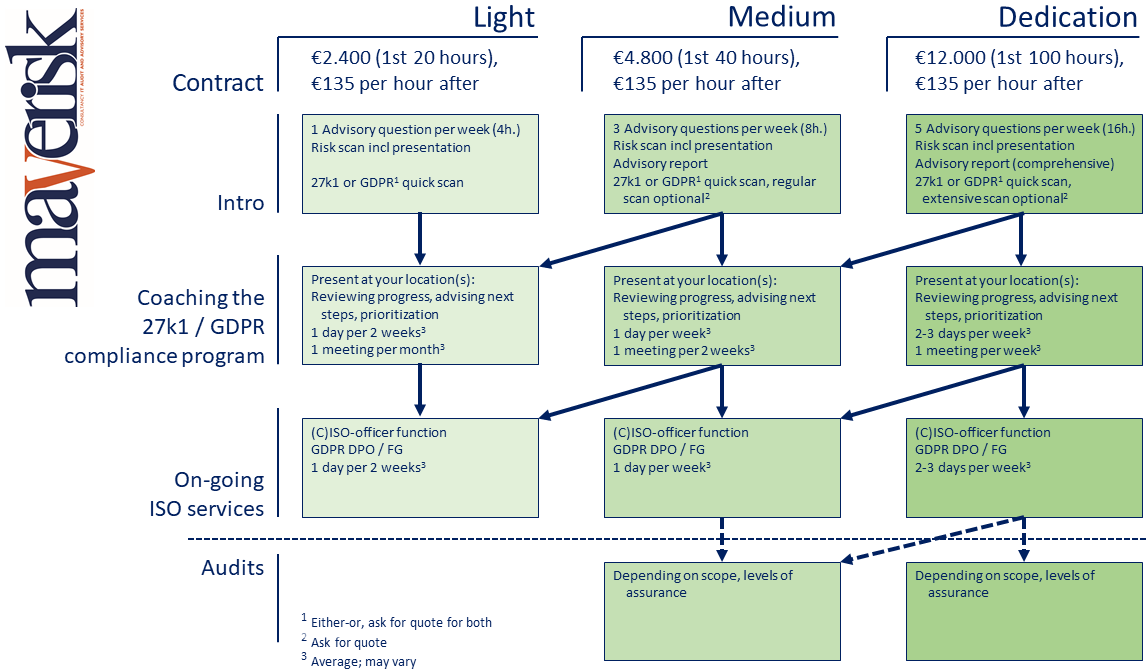 All financials ex VAT, ex travel expense.
General terms and conditions apply, as here.